Insights from Our Experts
How Android Pie is Going to Transform Your Business Applications
Android 9 or the nicknamed Android Pie and codenamed Android P is a sensational topic in the Mobile world. 
Google officially released Android 9 Pie this month on the 6th. Since then, its been in the news for tech enthusiasts, businesses, and developers. It is the most talked about Operating System (OS) update for Android. 
Presently, Android Pie is available on Pixels and the Essential Phone. 
"Devices that participated in the Beta program from Sony Mobile, Xiaomi, HMD Global, Oppo, Vivo, OnePlus, and Essential, as well as all qualifying Android One devices, will receive this update by the end of this fall! We are also working with a number of other partners to launch or upgrade devices to Android 9 this year" - Google
The business opportunities with Android Pie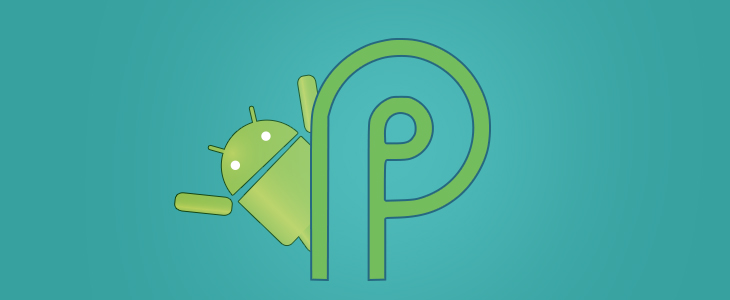 The Android Pie features are a lot to talk about! 
What does this indicate? Android is an everlasting platform. If you are still in the game with your Android applications for the market, then you are doing it right. And if you haven't thought about one, then this is the time and opportunity! 
The percentage of Android users in the world rounds close to 2.3 Billion. Well, that's a significant number, a number worth spending your resources and money for. 
When IDC conducted a research on the market share for various mobile operating systems, it showed a 0.3% decline in the year. Despite this decline in figures, Android still topped above iOS, Windows, and other operating systems. 

See the graph below: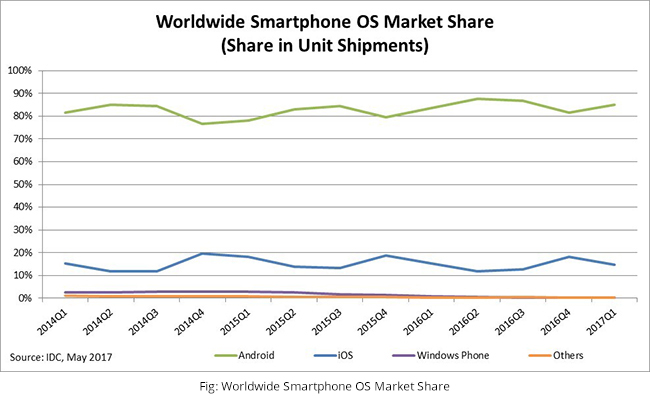 The above graph by IDC indicates the dominance of Android OS in the worldwide smartphone OS share in the year 2017. Yes, Android is keeping far better than the others in this game. 
As Google brings more advancements for the Android OS, it opens up a plethora of opportunities for the business world. With Android Pie, we are going to experience a major shift in the performance of Android apps. 
Android apps are going to overcome the usual mishaps with Android Pie in support. In many ways, Android Pie is way better than the previous rollout Android Oreo. You are about to welcome enhanced features such as new navigation systems, screen-time controls, battery optimization and so on. It's artificial Intelligence capabilities and enhanced privacy features are keen on understanding the users better and serving them better. 
Get Your Android Applications Ready! 
Now, Android has a higher potential to compete with the iOS market. As we analyze the various OS updates released so far, it's quite clear that Google is striving hard to bring continual improvements for their users.
Android Pie strengthens the presence of Android apps in the market and offers an enhanced user experience. A mobile app is essential for any business. For businesses like yours, you can reach a wider market with your high-performing Android applications. Unlike the old days, you need not have to be hesitant and worried about the application performance and security. 
Android Pie offers enterprises to develop applications leading to competitive advantage and accelerated business growth. You have better performing applications using minimal cost-overheads, reaching the right set of customers at the right time. 
How to get your apps ready for Android 9?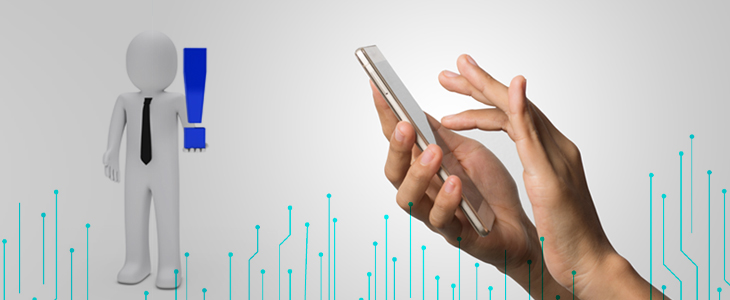 To begin with, take the case of your existing Android business applications. We are already aware of Android Pie features. Along with these new features, it brings a lot of behavioral changes to apps. You need to tweak or re-write your existing code base after the match-making between new OS features and device requirements. 
For example, if you have an application that requires background running, battery optimization feature can prevent this as soon as the user closes the app. In that case, you need to re-write your code base to cope up with the update. 
In the new OS version, new restrictions are observed on the usage of non-SDK surfaces. These restrictions can affect the behavior of your applications. For your existing apps, you need to test for the non-SDK surfaces and then, enable access to those as soon as possible. 
Android Pie features aren't limited to these two above points alone. Instead of diving into each and every feature in the blog, let's talk about the hack that needs to be done. Well, any new feature that restricts your app performance needs to be reviewed and the app has to be modified accordingly. 
Google has provided immense support for migrating existing apps to Android 9. These new features and APIs offer you a chance to modify your apps to make it a customer-friendly one.
 A basic compatibility with Android and a good development team are all that are needed. If you have a right technology partner with expertise in mobile app development services, then you can just leave it to them and enjoy the benefits. 
What happens when you build an Android app from scratch? 
You already have the cheatsheet!
To get started, dive into the basics of Android Pie with the help of an experienced and expert Android mobile app development team. During the process, analyze the technology you opt to use for the application. 
Java and Kotlin are two popular languages used for Android application development. Android 9 extends its support to the popular programming language Java as well. Further, Android developers recently announced in their blog that Android Pie SDK is now more-Kotlin friendly.
At SayOne, our developers work using both Java and Kotlin technologies. In cases when you have doubts about the new Kotlin, you can choose everyone's all-time favorite Java for application development. Both these languages are quite compatible and can easily accommodate the new Android 9 Pie features.
Conclusion: Get faster, smarter, and powerful Android Business Apps! 
If you haven't thought about developing an Android application, then now is the right time!
With Android Pie, Google is redefining Android experience on mobile devices. All the perceptions about the unsustainability of Android apps are soon going to be submerged. Here, having the right application objective, strategy, and team are going to be your cue to success. 
There are already 3.3 million apps in the Google Play store. The faster you get your Android 9 compatible applications, the more are your chances to get noticed and grow.
Get started today!