Insights from Our Experts
How to Choose the Right Outsourcing Partner?
Outsourcing is a common term among businesses. When a company's business process is transferred to a third party, we call it 'outsourcing'. And outsourcing that crosses national boundaries takes another mode called 'Offshoring'. In IT, outsourcing takes various forms. Either the entire project is outsourced or the skillset required to execute the project is chosen.
When outsourcing was introduced to the business world, the old beliefs of 'doing everything on your own' vanished. Enterprises and organizations started entrusting external teams with their business initiatives. And IT outsourcing gradually flourished to an extent unimaginable. 
Why is outsourcing so popular? 
Low operational costs.
Access to a large resource pool.
Fewer worries about the maintenance of the system.  
More time and effort for other business functions.
Enhanced productivity of internal teams.
Presently, the IT outsourcing market size is beyond our perception. How can we choose the right outsourcing partner from this lot? An ideal technology partner who understands your business needs and delivers the expected results should be the ultimate choice.
Choosing the Right Outsourcing Partner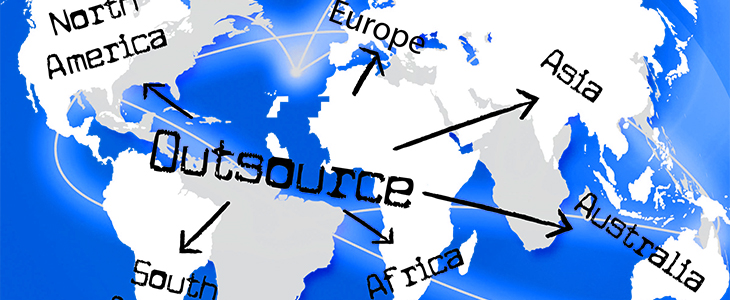 If you take the leap without a thought-through process, you might end up spending a hefty price in return. Therefore, it is critical to plan well and proceed. 
Company background
As a primary step, check the background of the outsourcing company. Research about the leadership team and their professional experience in the industry. This includes learning about the organization structure, project management, and delivery teams. 
Further, collect details regarding their development centers and offices. In most cases, I prefer meeting the team personally even if that means flying for a couple of hours. Afterall, you need to ensure that your chosen partner has the pedigree to jointly scale-up and grow in the future with your demands. 
Reputation and reliability are two other factors to be considered. Talk to others and learn about the reputation of the company. Check for the online credibility of the chosen outsourcing partner. These days IT analyst firms such as Clutch and GoodFirms prove much reliable in learning about the company's portfolio and client recommendations. You can further check their GitHub repository to get an overall idea regarding their technical expertise. 
Another way to do this is to analyze their client base and contacting them directly. This also helps in understanding if the chosen partner is reliable and has credible experience in outsourcing. 
Budget and time of delivery 
Why have you decided to outsource your project? Well, if the budget was one of the reasons then it should be definitely be considered next. Once you have narrowed down the list of companies based on the reviews and reputation, the next step is to see the cost estimates and time of delivery. 
Both of these aspects are critical to any project as they play a crucial role in the success of the solution. The need of the market is now. Any company that does not understand this notion is long gone out of the game.
Time zone, work culture and ethics 
The differences in time zone, work culture and ethics is an issue commonly faced during IT offshoring. In an onsite-offshore model, the project teams and stakeholders will be geographically divided. The difference in public and local holidays can also cause hindrance to collaborative working. 
In such cases, it often becomes difficult to find common working hours between both the parties. A workaround is to jointly agree on suitable working hours comfortable for both the teams. The project team should have at least a team member who is flexible to speak with your representatives in your preferred timeslot. 
There should be daily updates shared by the project teams to the clients. This helps to keep both the parties on the same page in spite of the geographical differences. All these should be discussed and confirmed before starting the project. 
Next is the diversity in culture and ethics. Each person will have a different style of communicating matters to others. What might seem normal to a person can offend another person. This happens particularly in cases when there is no sync and understanding between the teams and clients. 
Technical competency
One of the reasons to outsource your project might be lack of in-house capabilities. But whatever may be the case, you need to do a thorough research on the technical competency of the chosen technology partner. 
If you have core dependency on a particular platform, analyze their portfolio to see if they are well-versed with it. Either you or a member from the technical team can check their technical knowledge regarding the domain. 
Understand their technology capabilities and experiences. See how updated they are with the latest technology trends and their willingness to learn, experiment and grow. 
Team size, qualification, and background 
Pick up the right team. One of the main reasons why outsourcing fails is the lack of dedication and passion in the chosen team. If the chosen team sees your project as a mere task, then you will be far from realizing your dream. 
Choose a team with the right set of skills, experience, and passion. This is crucial in project outsourcing models like resource augmentation. Many times, I hear customers saying that they would prefer to manage the team directly. 
But this can prove devastating at times, especially, if there is a friction existing between the development team and the client. Designating a Project Manager at work to handle the team is considered most apt for such working cases. 
Approach and methodologies 
Project management approach and methodologies indicate the level of maturity of a software development company. If the chosen company still rely on traditional project management methodologies such as Waterfall, then you should probably drop them. 
Why does it matter? Traditional methodologies such as Waterfall depend on extensive documentation and are hesitant to requirement changes. A company that believes in an incremental and iterative approach such as Agile is highly reliable. 
If you have doubts over this, then just google for the 'Top Project Management Methodologies' and you will see Agile at the top. Within Agile, parallel sprint execution is something that not many companies pitch about. This type of sprint execution leads to accelerated sprint execution and faster completion of the project cycle. 
Communication channels 
When you choose a technology partner and start working with them, you are sharing confidential information related to your business. Doesn't this concern you? If yes, then what precautions do you plan? 
Always prefer a secure form of communication channel. Check their communication channel and mode of information exchange. Make it a point to see that all formal communications occur through a secure company email address. 
In case of emergencies, communicate over messaging platforms such as Microsoft Teams or Slack. Common platforms such as WhatsApp should never be promoted for confidential information exchange. 
Post-deployment support 
The partnership doesn't end after successful completion of the project. You will need continuous support from the outsourcing team to keep your applications running robustly. 
Discuss how the selected company manages post-deployment support. Learn about their methods of resolving issues. If multiple tickets are raised, then which one is chosen first? Check if there is a priority order assigned to the issues and are resolved based on this order. 
Conclusion
IT outsourcing is a step to be taken and executed carefully. Your business growth is dependent on the end solution. Nevertheless, it is not rocket science! 
As a technology partner who has delivered over 300 projects globally, we believe IT outsourcing is the most useful and cost-effective method to reap maximum benefits out of your investment. 
During our seven years of journey in the IT outsourcing/offshoring world, we have serviced clients around 14 countries. An observation is that a flat structure, where there is a mutual understanding between the project team and the stakeholders, promotes transparency and builds trust among the clients. Our Agile software development methodology with parallel sprint execution has further helped us to deliver quick results in a short span of time. 
For any organization or enterprise, outsourcing can prove quite efficient with the help of a right outsourcing partner. You only need to be vigilant and selective about the chosen partner to succeed in the mission. 
Talk to our experts today!