Insights from Our Experts
How Voice Search Optimization Benefits Your Business in 2020
Voice Search Optimization Benefits

"Ok Google, find me the best Chinese restaurant nearby"
"Hey Siri, how's the weather today?"
When people search using voice on their smartphone, tablet or voice assistant devices, it's called voice search. Google, Alexa, Siri, Cortana, etc., have made it all easier for us with voice-generated answers and actions. When a voice search happens, there isn't a search page which is showing 10 blue ticks. Instead, your device reads out loud the best answer as the response. 
Yes, that's it! Nothing more, nothing less. You get the answer to your question in the form of the most relevant information. 
So, how exactly does it benefit your business in 2019? And how can you get started with voice search optimization? 
Your Business Benefits with Voice Search Optimization 

In 2016 Google I/O conference keynote, Sundar Pichai, CEO of Google, stated that one in every five searches done in the Android app in the United States was a voice search. eMarketer says that 35.8% of millennials use voice-enabled digital assistants at least once a month. Out of this number, almost 22% of the searches happen to find local content and information. To add more, a great majority of consumers are also seen shopping online using voice searches.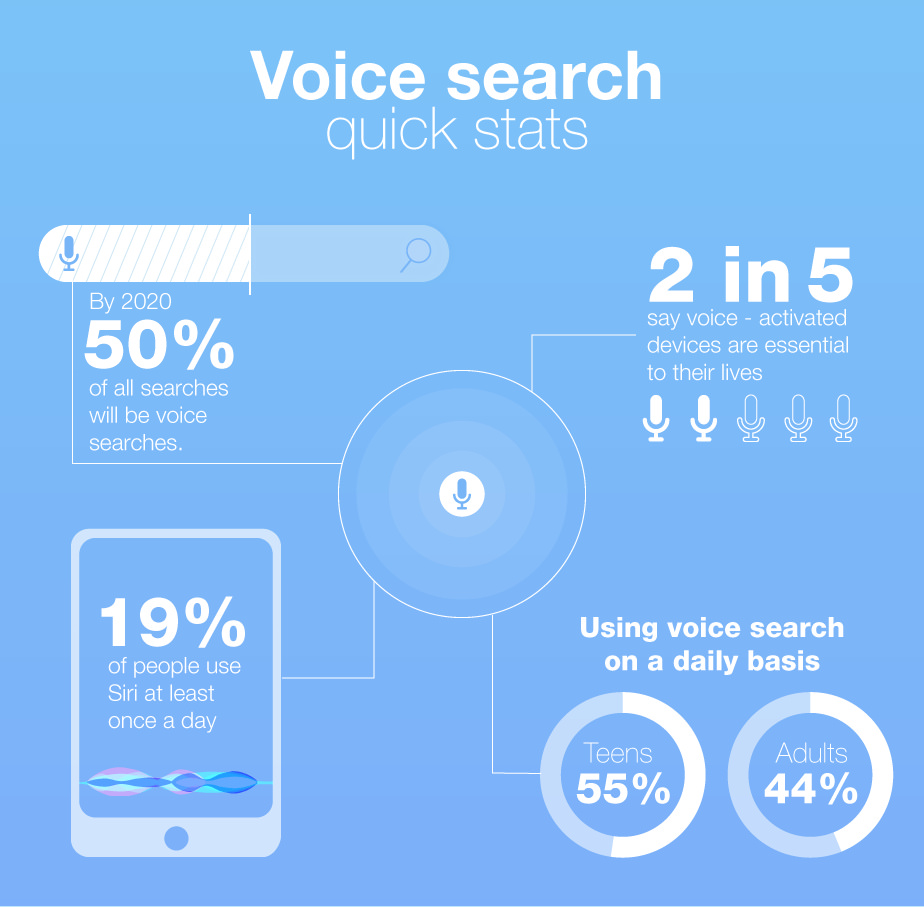 Voice search optimization is an excellent method for small and medium businesses to attract potential customers to their website. Therefore, investing in local SEO to strengthen your brand presence locally and search engine ranking is seen as a major marketing strategy in 2019. The visibility of your local data including details such as location, office hours, pictures, etc., increases the number of visits to your local store, office or working space. 
Both B2B and B2C companies can use the latest SEO trend of voice search optimization for a variety of business benefits. Some of those are:
Increases website traffic
Raises brand awareness and visibility
Directs more users to your stores 
Connects better with the users 
Enhances customer engagement 
A high scope of conversion and sales

Getting Your Business Ready for Voice Search 

Improve PageSpeed

People expect quick results for their searches. A vast majority of voice searches happen over mobile and devices such as Amazon Echo. And page loading speed is a crucial mobile search ranking signal. It was found out that the average Time to First Byte (TTFB) of a voice search result was .54 seconds. Accelerated Mobile Pages (AMPs) are also greatly favored in search results. So, if you want to improve your chance of showing up in a voice search, then make sure that your page loads faster. 

SSL and HTTPS Certificate 

An SSL certificate and HTTPS prefix validate your website security. In 2014, Google had announced that HTTPS would be considered as a priority ranking factor. This is applicable in voice searches as well. In fact, according to Backlinko, 70.4% of Google Home result pages are secured with an HTTPS prefix. This denotes that securing your website with HTTPS is an eye-catcher for search engines like Google. 

Simple, easy-to-read and long-form contents 

Contents that are simple, easy-to-read and fall within the 2000-3000 word limit stand a high chance to rank in voice searches. However, stuffing your content with meaningless words to show up in searches is not the ideal method. Google chooses content quality over quantity. If your content meets the guidelines of quality material, then Google would consider it as the best pick. 
Content engagement also plays a key role in voice search. Although Google doesn't consider social media signals as a ranking factor, it has been observed that highly engaging contents tend to rank better for voice searches. 

Featured snippets & high SERP ranking 

Domain rating wins over page authority. Hence, priority will be given to a website with more quality backlinks than a webpage with a good backlink ratio. A website with a high domain rating ranks better in the search results. Quality link building itself forms a valuable off-page SEO tactic to boost page ranking in Search Engine Result Pages (SERPs). 
Another notable factor is a featured snippet section. These snippets are considered as the ideal results for voice searches. 40.7 % of voice searches are answered from these snippets. A featured snippet has the precise answer to the user's question given in a concise format. Prior to all, you need to ensure that your webpage gets to the top of search results. Only pages in the first 10 results have a chance of being shown in the featured snippet section. 

Mobile optimization 

As per Gartner, about 30% of the searches will be done without a screen by 2020. And about 1 in 5 adults use mobile voice search at least once monthly. A better mobile experience has become a crucial factor in voice search optimization. Furthermore, Google has taken mobile optimization seriously for search engine ranking. Google has special tools to conduct mobile-friendly tests for your web pages. So, the effort is going to be more than just a simple, mobile-optimized version of your existing website. 

Final Thoughts 

Technology disruption has given entrepreneurs unique opportunities to reach out to customers. Now, voice search is more than just the norm of 'search'. It is evolving to be an experience on its own. As voice experience improves, brands also need to re-consider their content strategy to meet the growing expectations.
As disrupting it sounds, voice search offers us with a plethora of opportunities. In a nutshell, voice search and experience change the way we connect and communicate with our audience. In the coming years, it can prove to be an efficient method to improve customer relationship management.