eCommerce Application
5 min read
How you can iron out Ecommerce pain points using MACH
---

Subscribe to Our Blog
We're committed to your privacy. SayOne uses the information you provide to us to contact you about our relevant content, products, and services. check out our privacy policy.
In 2020, it is estimated that over two billion people purchased goods/services online, and e-retail sales went over 4.2 trillion U.S. dollars worldwide in the same year. By the year 2040, it is estimated that over 95% of all purchases will be via eCommerce.
These statistics look very promising. However, eCommerce businesses that are still functioning using legacy software have no space to grow or do not have the flexibility to accommodate the demands of modern commerce.
Amid all the confusion that exists, MACH seems to be the way out for mid-market eCommerce business owners that will stretch their capabilities limitlessly.
MACH architecture is made of a set of technology principles that support best-of-breed technology platforms. MACH is an acronym and expands to Microservices-based, API-first, Cloud-native, and Headless.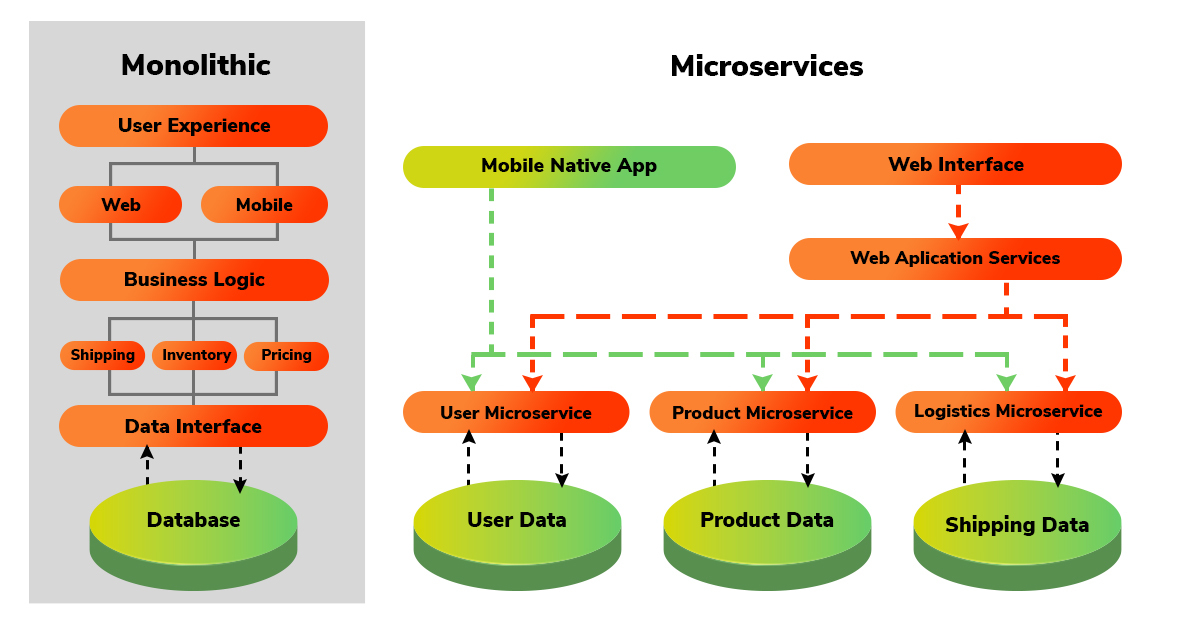 What is it about MACH that enables mid-market e-commerce businesses to rise to a level of sustainability? At the very basic level, it works to improve the culture of the organization so that it works in a more agile fashion faster than the competition. That is what mid-market e-commerce businesses need today to stay afloat.
Read our blog "Next-Gen Headless Commerce – How Does It Impact Businesses in 2022".
MACH is designed to overcome all the pain points or disadvantages caused by legacy or all-in-one platforms. In this article, we attempt to list out how the MACH approach loosens the stifling pain points of mid-market e-commerce businesses that keep them from growing bigger.
Expand into a Multinational, Multibrand Platform
Every e-commerce business aims to expand into other countries. That is when growth happens. Selling goods in different currencies is very powerful and lends strength to the business. Ecommerce platforms also want to establish different culture-backed storefronts in different nations. Legacy platforms do not allow these kinds of expansions. A MACH-based solution with APIs and microservices is the best way out. They will easily support multilingual, multicurrency transactions and will be able to integrate newer types of storefronts with ease.
Slow Time to Market?
Would an e-commerce store be able to launch a promo within a couple of hours? It is a big 'no' if it is functioning with an all-in-one platform. Such platforms find it difficult to shift according to changing market trends in short intervals. This is a cause for frustration for the business and the owner.
Download our Ebook "Modern commerce - Its evolution from the monolith to microservices" for deeper insights.
Headless commerce systems allow businesses to roll out new experiences according to changing customer expectations. Headless commerce is a critical component of MACH that helps to accommodate changes quickly with modifications to the front end and no changes to the backend.
Absence of Flexibility
Purchasing all-in-one platforms come with some unwanted baggage: portions of the package that you have to buy but will never use. The scope for customization and scaling up or down is also next to nil. IN a majority of cases the businesses have no scope of outgrowing the shackles.
MACH architecture on the other hand is flexible and offers customization for eCommerce platforms. You also need to pay only for what you want while showcasing your brand.
Looking for the best microservices vendor? Give us a call today!
Inability to Scale
Most modern e-commerce businesses have transitioned into MACH only because the all-in-one platform did not provide the ability to scale. With no ability to scale up, pressing situations to occur when seasonal sales or discount promos have to be launched at short notice. Sudden demand surges on e-commerce platforms are common occurrences.
It can be frustrating if the website crashes when loaded. This pain point can be avoided if MACH is in place. Mach systems are so designed that they hardly experience any downtime whatever the demand load. These systems scale up or down with ease.
Complex Product Catalogs
Product data management gets very complex when the number of products runs into thousands. Many systems allow only a finite number of specifications that can be added for each product. However, with MACH architecture, the ability to have an e-commerce platform featuring thousands of products with extensive product data management becomes easy because of the inherent support features that it possesses.
Omnichannel Experiences
Evolving consumer expectations and how the eCommerce platforms can handle these decide how popular the platform will become. A modern consumer expects the platform to display the same scale of information whether on a website, a brick-and-mortar store, a mobile app, or when they ask questions to their voice assistant.
Implementation of MACH architecture enables implementation of the same shopping experience on any touch-point as the backend processes are the same. The net result is that brand experiences become more consistent drawing both new and loyal customers to your store all the while.
Conclusion
To keep up with the competition among modern eCommerce platforms, MACH seems to provide the solutions that are required. The four elements of MACH help to provide the best customer experiences while allowing the eCommerce solution to develop and evolve according to modern expectations.
Start your microservices journey today! Give us a call!
How Sayone can help
At Sayone, we design and implement microservices systems that do not have complex architectural layers, and this enables the services to deliver exceptionally fast performance. Moreover, we provide services that are significantly decoupled, allowing you to launch independent services and not end up with the usual inter-dependent microservices that work more or less like a monolith.
We design the microservices keeping in mind the margin required to allow for the transitioning into the new system of your organization's legacy architecture as well as expanding into the cloud system. Our microservices comprise lightweight code and we provide competitive pricing options for our clients.
Our microservices are built according to the latest international security guidelines that ensure the complete safety of all the data. We also ensure that we deliver the services within stipulated deadlines and we always assure a quick turnaround time for our clients. Equipped with the best infrastructure and the latest tools and technologies, our expert developers will provide you with the best microservices that are easily scalable, enabling a good ROI in the shortest period.
Subscribe to Our Blog
We're committed to your privacy. SayOne uses the information you provide to us to contact you about our relevant content, products, and services. check out our privacy policy.