eCommerce Application
5 min read
Next-Gen Headless Commerce – How Does It Impact Businesses in 2023
---

Subscribe to Our Blog
We're committed to your privacy. SayOne uses the information you provide to us to contact you about our relevant content, products, and services. check out our privacy policy.
Impact of Next-Gen Headless Commerce on Businesses in 2023
Statistics show that more and more consumers will move online in the future, and they will access eCommerce sites from different devices. Today, consumers can shop from their smartphones, smartwatches, and other smart devices like Google Home, Dash Button, Amazon Echo, and Alexa. This means that eCommerce businesses will have to ensure that consumers have a seamless experience. All these changes in the purchasing behavior of consumers are driving online store owners to shift to headless commerce.
A report published by Insider Intelligence, a provider of digital transformation statistics based on research, reveals that retail eCommerce sales in the United States will increase by 13.7 percent in 2021 to touch $908.73 billion. The prediction before the pandemic was that eCommerce sales would grow by 12.8 percent. Having said that, let's understand what exactly is headless eCommerce is.
Headless Commerce
Headless eCommerce decouples the front-end and backend functionalities of an online shopping platform to ensure a seamless user experience. This creates opportunities for customization of the functionalities of an eCommerce website without any limitations and even customer personalization. For example, when customers are interacting with the front-end UI, PCI compliance, data security, inventory management, payment integration, and databases will be active in the background. In headless commerce, these functions are handled by independent microservices.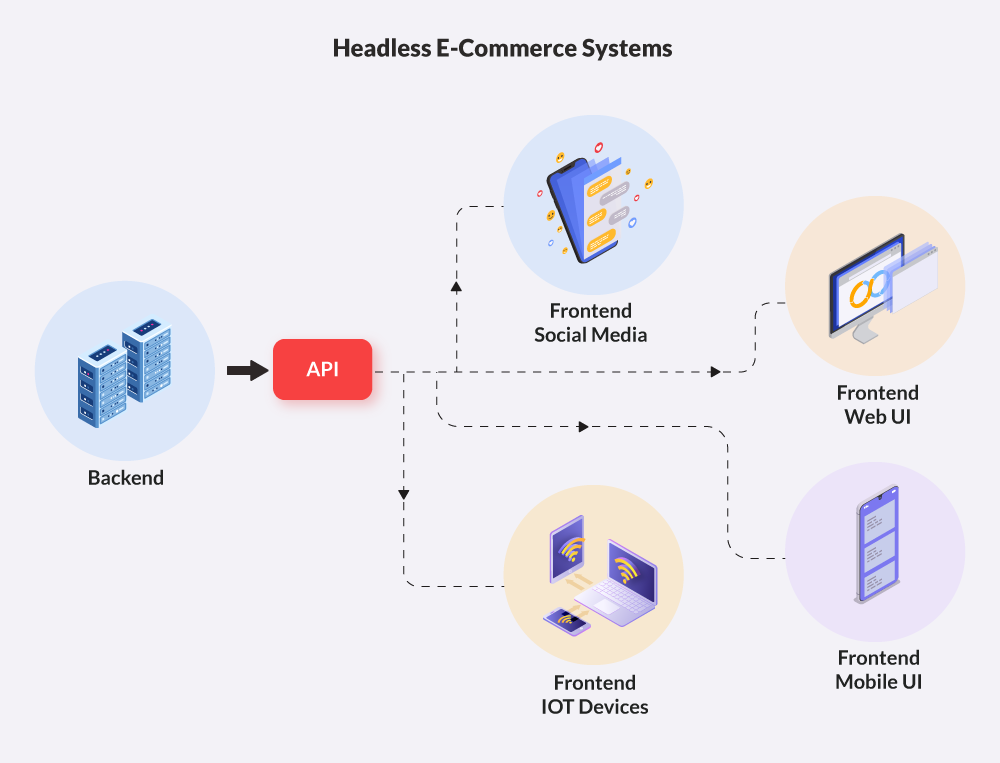 The factor that drives the shift to headless eCommerce is the ease of creating and deploying solutions to overcome major eCommerce issues. This, in turn, removes the dependency between what makes websites function and what the customers see. When releasing new features or doing maintenance, businesses can ensure that the user experience is not impacted in any way whatsoever.
Download and read our ebook "Modern commerce and microservices".
The major advantages offered by headless commerce and microservices are:
They allow businesses to create custom software stacks with the help of microservices
Headless eCommerce offers greater flexibility, especially for new eCommerce channels
The time developers take to build applications is considerably less, and there is no risk of disruption of the entire system when changes are being made to one microservice
Headless Commerce helps eCommerce by:
Improving Customer Engagement
Speeding Up the Integration Process
Increasing Website Loading Speed and Performance
Providing Competitive Advantage
Improving Stability and Scalability
Reducing Cost of Customer Acquisition Through Personalization
Why eCommerce Businesses Should Go Headless
Study data shows that 64 percent of large organizations are implementing new solutions to enhance their eCommerce efforts. Out of this, 76 percent are planning to switch to headless architecture in the near future. These numbers cannot be ignored, and it is certain that the future belongs to headless commerce. The trends driving organizations to make the switch are:
Mobile Commerce
The days when consumers used to buy products exclusively from their desktops are long gone. By 2023, it is estimated that 187.5 million consumers are likely to use their mobile devices for shopping. And, by 2025, mobile commerce is expected to hit the $270 billion mark. The headless commerce solution allows eCommerce brands to take advantage of this trend as the tech stack employed for the purpose enables them to sell on platforms like Facebook or Instagram, which are being used by consumers. This helps brands to foray into social commerce as well, without compromising the backend functionality.
For high-performance microservices that are resilient as well as scalable, call us at SayOne today!
New SEO rules
One of the key strategies to be employed for the success of any eCommerce business is SEO. In June this year, Google changed its search algorithm. The factors used for assessing page load speeds have been changed. Google will now consider factors like the content, first input delay, etc. As the front-end and backend are decoupled in the case of headless commerce, only the front-end needs to load to enable visitors to access the site. This helps to improve the page loading speeds of eCommerce websites.
Personalization
Consumers will share data if eCommerce brands are ready to offer them a personalized experience. Headless eCommerce enables brands to ensure this by collecting data and sharing it across platforms as well as devices. For example, a visitor might create an account on an online store on the go through his/her mobile device and complete the shopping later from a laptop.
Headless CMS
In monolithic solutions, the CMS of the eCommerce backend is used. They provide the basic functions and are not helpful for larger eCommerce businesses that are growing very fast. A headless CMS is a backend-only system that allows brands to deliver personalized experiences on the web, mobile, social platforms, IoT, or even VR. Besides, cutting off the content's presentation layer eliminates worries about the content when changing the technology stack.
Greater Focus on Security and Privacy
It is getting more and more crucial to make sure that client data is safe and secure as e-commerce enterprises gather more of it. We have observed e-commerce companies placing a strong emphasis on security and privacy when it comes to their IT infrastructure and customer-facing software.
By giving individuals more control over their data and enabling them to use security measures more effectively, headless commerce can assist enterprises in achieving higher levels of security and privacy.
Omnichannel Commerce
The purchase journey of today's consumers is not as linear as it was in the past. Seventy-four percent of customers use multiple channels to start and complete transactions. A headless architecture allows brands to turn customer touchpoints into opportunities to sell something by building a webshop, IoT devices like a mirror or smartwatch, a mobile app, creating an Alexa skill, etc., from a single backend. This means brands can show themselves up wherever their customers are without adding to the complexity of the backend.
Read our blog "Infusing Retail Edge Architecture with Microservices-Benefits"
The main reason why eCommerce Businesses in 2023 should go headless is performance. Further, businesses benefit from performance advancements like edge computing. This will drive up conversion rates and reduce customer abandonment. Headless commerce, along with microservices architecture, is really a game-changer, especially for brands that want to improve their eCommerce stores and separate the front-end and back-end functionalities to enable changes to be made without impacting the customer's experience.
Are you looking to deploy, manage, and scale up your Kubernetes microservices applications in the cloud? Call us today!

How can SayOne Help
At SayOne, our integrated teams of developers service our clients with microservices that are fully aligned to the future of the business or organization. The microservices we design and implement are formulated around the propositions of Agile and DevOps methodologies. Our system model focuses on individual components that are resilient, fortified, and highly reliable.
We design microservices for our clients in a manner that assures future success in terms of scalability and adaptation to the latest technologies. They are also constructed to accept fresh components easily and smoothly, allowing for effective function upgrades in a cost-effective manner.
Our microservices are constructed with reusable components that offer increased flexibility and offer superior productivity for the organization/business. We work with start-ups, SMBs, and enterprises and help them to visualise the entire microservices journey and also allow for the effective coexistence of legacy systems of the organization.
Our microservices are developed for agility, efficient performance and maintenance,enhanced performance, scalability, and security.
Subscribe to Our Blog
We're committed to your privacy. SayOne uses the information you provide to us to contact you about our relevant content, products, and services. check out our privacy policy.