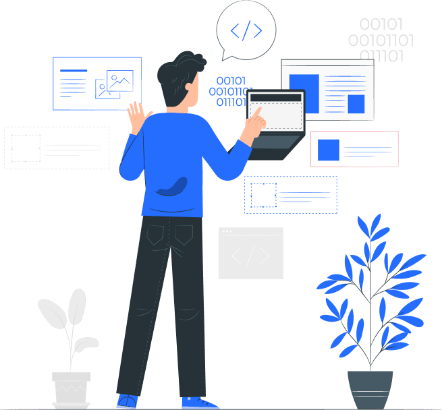 eCommerce Web Development Solutions

– Our Forte solutions.

Feature-Packed, High-Performance, Fully-functional and User-Friendly Software Solutions

SayOne's developer team is experienced enough to provide the most suitable packages for different businesses to meet their specific needs. From simple websites to complex e-Commerce solutions with responsive designs, we create a range of products that are highly functional and visually engaging. As a full-stack web development company, we also develop cross-platform and custom web solutions for our clients so that they enjoy increased conversions.

The robust backend solutions we develop are designed to power websites and help users to have a hassle-free browsing experience. When it comes to front-end solutions, we employ the latest technologies that work in tandem with the backend code and provide 'glitches-free' applications.

We have proven expertise in designing and crafting extensive content management systems that enable multiple users to create, edit and publish high-quality content. Further, our teams are well-equipped to incorporate the latest business analytics and data-processing techniques that transform large collections of complicated data into simple formats to provide valuable business information. This facilitates quick and informed decision-making to power the business in the right direction.

As far as Cross-Platform mobile app development is concerned, we provide the most cost-effective solutions to help our clients reach out to a wider audience base. Finally, our digital transformation services are directed towards creating or modifying clients' existing business processes to meet ever-changing market demands.