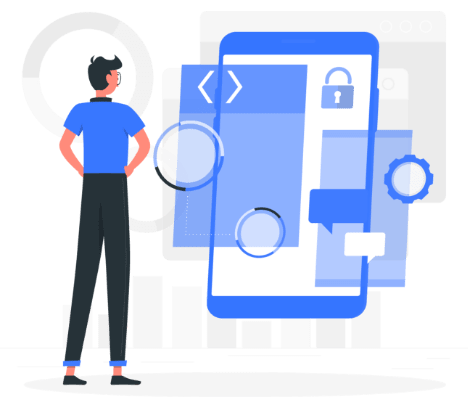 Mobile App Development
Solutions
Our services include full-cycle mobile app development according to client needs. Expert business analysis, design and development of the mobile app from the idea stage to the launch, integration of the new product into existing infrastructure, scaling up the mobile app as per requirements, and further optimization, all form part of our service.
Further, we incorporate the latest technology stacks to build mobile apps to match up to the diverse needs of our clients. This is possible only because of the expertise of our team members who are well-experienced in providing apt solutions.
The mobile apps we develop for our clients are designed to streamline the workflow and integrate different functionalities through UX/UI to increase the productivity of their business. Adept at delivering mobile applications well within the specified deadlines, our strategically crafted apps help to take our client's business to the next level.
We undertake design and development of native iOS and Android apps as well as cross-platform apps using React Native and Flutter frameworks.
Moreover, we do what it takes to build high-quality bespoke apps with the best functionalities for effective utilization and to the complete satisfaction of our clients. Each of the apps that we craft is strategically planned, designed, developed, and thoroughly tested to offer the best-in-class deliverables.
Embedded with the latest features, technology platform and the best visual effects, we ensure that the overall design and experience will impress our client's target audience.