Web Application
5 min read
Progressive Web Apps: Why Your Business Needs It?
---

Subscribe to Our Blog
We're committed to your privacy. SayOne uses the information you provide to us to contact you about our relevant content, products, and services. check out our privacy policy.
A Progressive Web App (PWA) is proving to be the next application development standard.
If you are new to the concept of Progressive Web Apps, then you can check out our blog on PWAs to understand why everyone is drawn towards it.
In this blog, let's focus on the business benefits of Progressive Web Apps to understand why it's a major game changer.
Progressive Web Apps to transform your Business Landscape
So, what makes PWAs different from responsive web apps and native apps?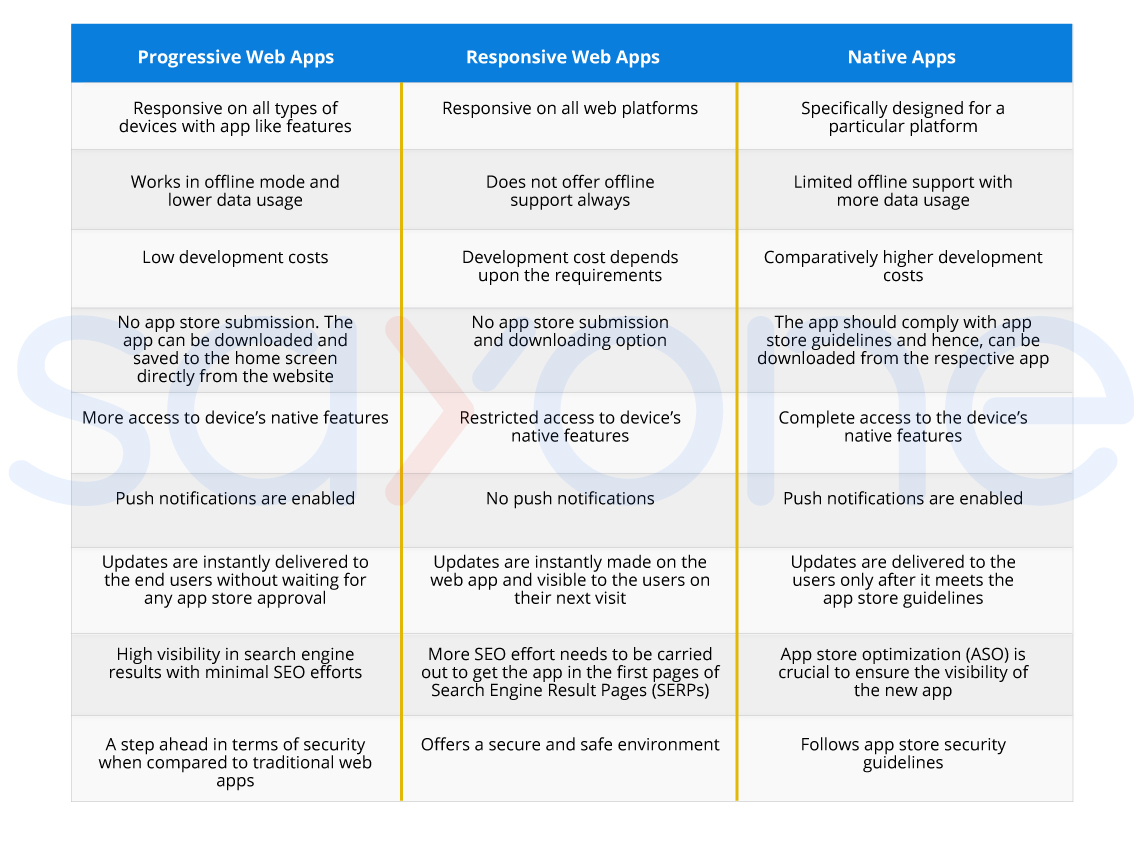 For businesses, what's the hidden advantage with PWAs?
Well, it's much cheaper than a native application. You get web applications which function using modern web technologies with the fluidity of native and responsive web applications in your allocated budget.
Once the Progressive Web App gets out on the internet, it works seamlessly on 'n' number of devices available in the gadget world. Hence, you don't have to explicitly check its responsivity on every screen. This further reduces the effort of the Quality Assurance team during software testing and increases the speed to market.
For users, it is the best option for an impeccable mobile web experience. The ability to work in offline mode and lower data usage when connected to the internet makes PWA be a favorite among the users.
These are some of the very known advantages of PWAs for both the businesses and users. Now, let's do some serious study to understand how important a Progressive Web App is for your business.
Download Now: Development process for the layperson and what does it take to build an application [Get Your Copy]
Top Players doing it right with the PWA Game
Today, pioneers in the industry have already got some splendid results with PWAs. The credit goes to its distinct characteristics and a wide range of business advantages.
What exactly was their business benefit? Let's dive deep down!
Twitter Lite
The popular social media platform, Twitter, has about 335 million monthly active users. And almost 80% of these users are on mobile.
In 2017, Twitter entered the PWA game with its new Twitter Lite. It is available in 45 countries as of now. The PWA requires only 3MB of storage space in Android and 1MB storage space in iOS. This new release came as a surprise to the users. There was a time when Twitter iOS consumed about 100MB. So, the lite version is definitely a storage saver.
Further, the internet usage has been reduced up to 70% in the PWA version. It easily loads on 2G and 3G networks. Once the data saver mode is turned on, you have the provision to limit the downloads as per your preference.
Results?
75% increase in the number of tweets
65% increase in page sessions
20% decrease in bounce rates
Alibaba
Alibaba is the world's fifth largest B2B marketplace with a revenue of 98.7 lakhs USD. They have 617 million monthly mobile users.
Alibaba offers a strong mobile experience with their native app. However, they later realized the drawbacks of their existing mobile app. Their users preferred a quick solution instead of downloading a high space consuming app to browse or complete transactions.
In order to provide the users with a great mobile experience, Alibaba built a PWA which offers a fast, reliable, and engaging experience to its users. The new application has the features to engage the new as well as re-engage the returning visitors.
Results?
76% increase in mobile web conversions
14% more monthly users on iOS and 30% more on Android
4X higher interaction rate
Ola
As a leading cab aggregator in India, Ola could not play a chance with their mobile web user experience. Their services extend to 100 cities in India with about 600K driver partners.
The cities in India opens up a plethora of opportunities as well as challenges to the leading cab aggregator. The commoners are in high need of an affordable and reliable cab service such as Ola for their commute. However, a majority of the population in India either deal with slow internet connectivity issues or device storage spaces. And Ola native apps are of 60MB and 100MB in Android and iOS respectively which need a fairly good internet connection.
Ola understood that the probability of users downloading and using their native apps was considerably less. Hence, they came up with a light-weight PWA which is suitable for any device and internet connection. The PWA requires only 200KB of data for installation. It's 300 times smaller in size on Android and 500 times smaller on iOS.
Results?
68% increase in mobile traffic
30% increase in conversion rates
20% increase in new users
Book My Show
Bookmyshow, India's largest ticketing company, has over 50 million monthly visitors. And most of the visits and transactions happen on mobile.
Despite the significant traffic to their mobile website, high bounce rates were observed due to the prolonged page loading time. The user-experience was also not optimal in the mobile website. Heavy data and storage usages were the other issues associated with its native app.
To mitigate these issues, Book My Show opted for a PWA using cutting-edge technologies for boosted performance. The Book My Show Progressive Web App is optimized for speed and has proven to be a major game changer in this aspect. The PWA is 50 times smaller in size on Android and 180 times smaller on the iOS.
Results?
80% increase in conversions
Loading time less than 2.94 seconds
Checkout time reduced to 30 seconds
Conclusion: PWA is the application game changer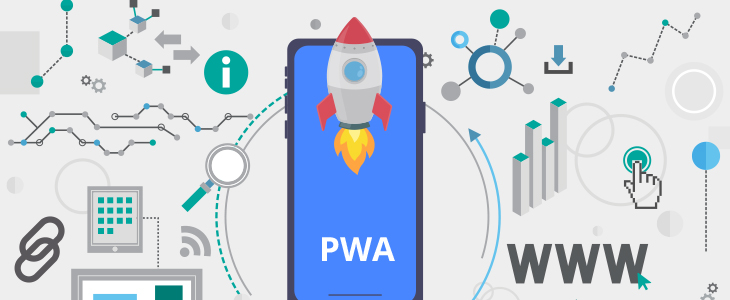 Progressive Web App is the next step after responsive web apps. And it's way too equipped to compete with the native applications. In a way, we can say that companies choosing PWA for their online presence are in a way of choosing their path to success.
If the cost of development and integration with existing systems are your concerns, then just leave it upon us. One of the major advantages of using PWAs is its cost-effective development features. Furthermore, as a Custom Software Development Company with 7 years of experience, SayOne has helped clients all over the globe with over 300 applications. And Progressive Web Apps are one of our favorite ones.
So, what's holding you back? Let's get started!
SayOne Tech
SayOne Tech, a technology company with offices in India and the USA, has proven expertise and experience in employing emerging technologies to deliver world-class, secure, scalable, and reliable solutions. The tech company strongly believes in empowering their clients to adapt to constantly changing business environments quickly and achieve their goals. The core values that SayOne is c passionate about are integrity, commitment, and transparency.
Subscribe to Our Blog
We're committed to your privacy. SayOne uses the information you provide to us to contact you about our relevant content, products, and services. check out our privacy policy.