Technology Solutions for Enterprises
4 min read
Top 3 Ways Technology is Disrupting Omnichannel Retail
---

Subscribe to Our Blog
We're committed to your privacy. SayOne uses the information you provide to us to contact you about our relevant content, products, and services. check out our privacy policy.
Technology implementation has become Imperative for the Omnichannel experience.
Omnichannel is a holistic experience. It bridges the difference between the online and offline portals. For an increasing lot of customers who expect a seamless and quick shopping experience, omnichannel is the answer.
Here, technology innovation plays a crucial role as it streamlines and triggers the omnichannel plans. As shown in the figure below, Deloitte Analysis has narrowed down the top technologies which are disrupting the retail world.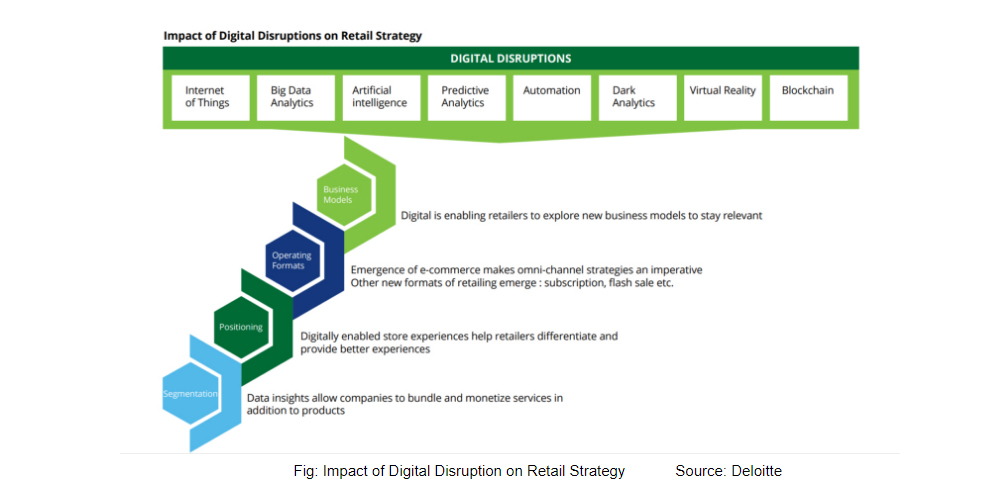 This blog shares insight regarding some of the pioneers who have been there and done that first.
Technology Disruption in Omnichannel Retail
Case Study 1 - Bonobos
Bonobos, founded in the year 2007 and headquartered in New York, is considered to be one of the largest clothing brands on the web. They focus and sell a wide variety of men's apparels online. In response to their customers' desire to try on the clothes offline, they seriously began the initiatives to fulfill their wish.
In 2012, they opened up physical stores as 'guide shops'. These shops act as the showrooms where every item is present for trial. They keep no products ready for immediate shopping from the store. The customers can do a trial with their favorite clothes before purchasing them online. Once you enter the shop, personal style assistant is available who can guide you through your purchasing stage.
They provide one-on-one service to each customer and help them choose the best clothes that fit them. The appointments can last for about 45 minutes with refreshments at the service. The selected clothes are then ordered and delivered directly to the customers' homes.
Now, Bonobos has almost 20 stores present in the United States. The customers can reap the benefits of shopping online with loyalty programs and offers. This type of an omnichannel experience has reduced the number of returns and exchanges. At Bonobos, a significant amount of customers now reach them through these guide shops.
Case Study 2 - Shoppers Stop
Shoppers Stop is a major multi-brand retailer in India. They have 83 brick-and-mortar stores across 38 cities in India. In the long-run, they decided to get an omnichannel makeover to boost the brand's online presence and customer engagement. The company chose a three-step strategy with an allocated budget of INR 60 crores to omnichannel retailing. Each of these stages in the omnichannel retail strategy was implemented year after year starting from 2015 to 2017.
Download Now: Development process for the layperson and what does it take to build an application [Get Your Copy]
In 2015, they began with strengthening their digital capabilities. This involved a new e-commerce portal, warehouse management system, payment solutions, and customer relationship management systems. They introduced in-store technologies such as 'magical mirrors' which enabled customers to try on products virtually.
In 2016, they boosted their multichannel capabilities by introducing mobile apps across various platforms. This way they have a credible presence over all the powerful channels of retailing - web, app, and brick-and-mortar stores.
In the next phase, they utilized technologies to focus on customer service, inventory management, and order delivery management to enhance their multichannel capabilities. By the end of 2017, Shoppers Stop had established themselves as a solid omnichannel industry player through technology disruption.
Case Study 3 - Kohl's Corporation
As America's largest department store retailing chain, the Kohl's Corporation decided to leverage technology opportunities to retain their competitive advantage in the market. They focussed on the betterment of store convenience, customer loyalty, and well-trained store associates through digital enhancements.
They ideated an omnichannel retail strategy with a niche focus on the customer segment. This included hiring a digitally fluent Chief Operating Officer who could make this work. In 2015, they rolled out the 'buy online, free store pickup' service to all their stores across the nation. The service was earlier tried 100 Kohl's stores in 2014 as an initial step. Upon seeing its success, they introduced the service nationwide.
In the next phase of Kohl's technology transformation journey, they are going smarter with the application of Data. This includes implementing a wifi system to understand the shoppers' online behavior and purchasing patterns. The wifi system is also intended to be a wayfinding system to help customers reach the required departments within the store. In addition to this, Kohl sends out personalized messages to customers regarding product availability to increase customer engagement and sales.
The Importance of Omnichannel Experience is Growing
The brick and mortar stores can no longer rely on quality and price alone. The advent of online shopping has urged the retailers to shift their focus from brick and mortar only to the digital world. The concept of a nearby store alone cannot be their survival factor. On a similar note, the convenience of online shopping let alone cannot achieve a competitive advantage in the present market. Both the physical and digital experiences are important for the customer world.
Subscribe to Our Blog
We're committed to your privacy. SayOne uses the information you provide to us to contact you about our relevant content, products, and services. check out our privacy policy.