Golang Development
3 min read
Why Conversational Commerce is a must-have for Retail Business
---

Subscribe to Our Blog
We're committed to your privacy. SayOne uses the information you provide to us to contact you about our relevant content, products, and services. check out our privacy policy.
We are past the phase of Digital Disruption in Retail. It's the era of 'Retail Renaissance'.
Brands are re-thinking about customer experience and working towards an ultimate customized commerce strategy. So, where does conversational commerce belong to?
Here is the answer!
Customer-centric Conversational Commerce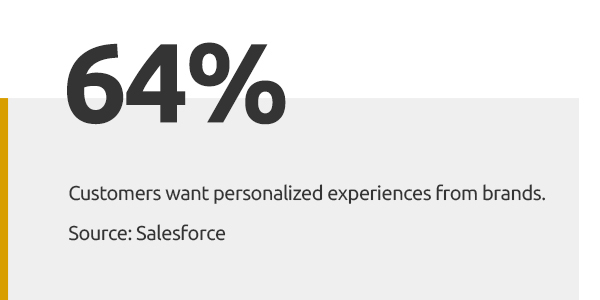 Despite this, a product-centric customer service is prevailing in today's retail world. The proliferation of new technologies has given high expectations to the customers. They look forward to a simple, fast and engaging shopping experience. In the absence of customer-centric business strategies, we are not wrong to say that brands may be missing out the key to attracting and retaining valuable customers.
This is where conversational commerce comes into the picture. With conversational commerce in the market, personalized experiences are now easy to be delivered using advanced technologies.
How is this accomplished?
By customizing communication and interaction with customers! Conversational commerce is the umbrella term for intelligent shopping assistants. In today's consumer world, we have intelligent voice-based Virtual Personal Assistants (VPAs) such as Amazon Echo as well as chatbots like Facebook Messenger. A significant market shift can be seen in the way brands are utilizing with these digital assistants for commerce.
This new partnership is helping customers to interact, get personalized recommendations and place orders through messaging or voice technologies. These intelligent VPAs and chatbots act as the initial touch points of sale for a seamless shopping experience.
To the customers, they offer:
Faster service
Human-like experience
One-to-one attention
Convenient shopping mode
Multi-tasking capability
Decision-making support
Why Retailers need Conversational Commerce?
H&M, Sephora, Domino's Pizza, and many more have already employed their chatbots at work!
Look at the image below: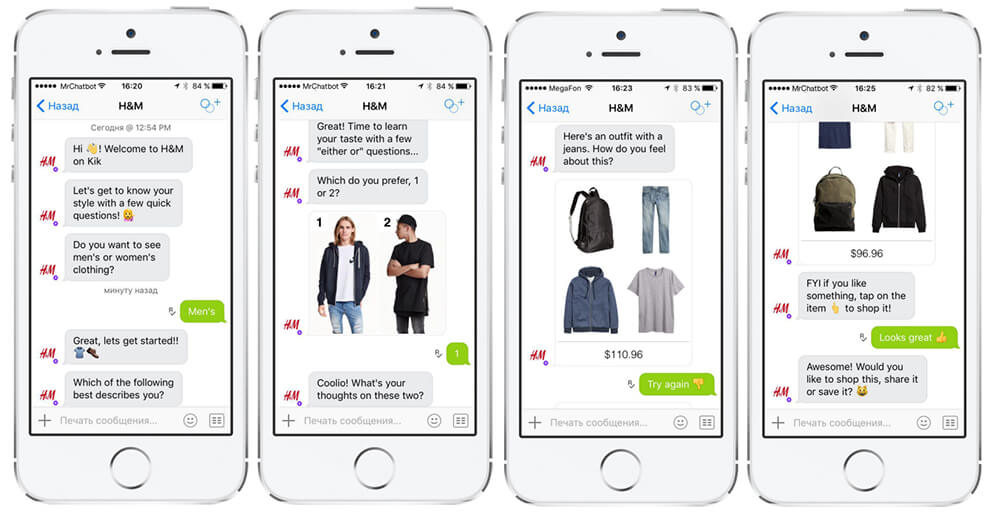 The technology opportunities in Retail are increasing steadfastly. And conversational commerce market size complements to the Retail technology trends. According to the Capgemini survey on Conversational Commerce, a majority of consumers (51%) are already users of voice assistants. The report also shows that the majority of interaction (81%) with voice assistants happens via smartphones.
"By 2020, over 50% of medium to large enterprises will have deployed product chatbots" - Van Baker, Research Vice President at Gartner
Retail renaissance is incomplete without conversational commerce. For retailers, it opens up a world of opportunities. The increase in sales opportunities via voice assistants is almost six times compared to other channels.
Retail chatbots offer the following benefits to brands:
Better analysis of customer behavior
Timely and accurate record of data
Increased cross-selling opportunities
Improved customer engagement
Instant feedback and reviews
Enhanced customer support and FAQs
Automated processes
Boosted Net Promoter Score (NPS)
Conclusion: Conversational commerce is happening now!
We strongly believe that conversational commerce guarantees customer retention and loyalty.
It is indeed the way to build and retain competitive advantage during this retail renaissance period. As a channel to strengthen the relationship between a retailer and consumer, conversational commerce is a must-have for businesses.
It has already been proven that businesses which focus on customers' priority segments drive more business value. In Capgemini Conversational Commerce survey, 58% of the consumers said they have shared their positive feedback with friends and family after having a good experience with personal voice assistants.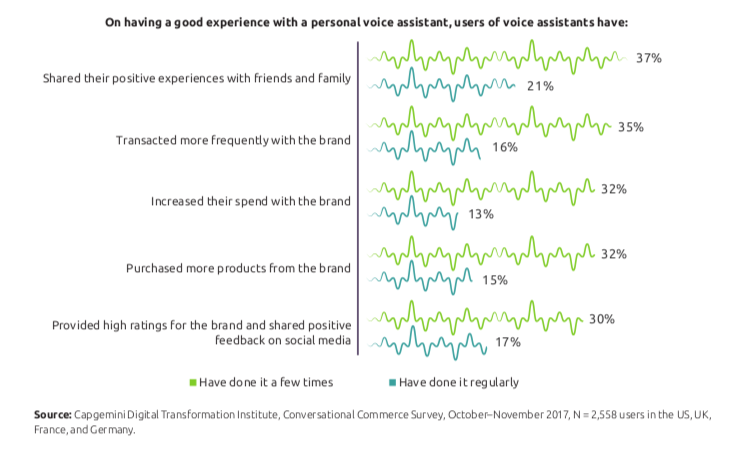 A delightful experience is a cue to customer delight. After indulging in a good experience with your brand, customers will be attracted to share the feedback and transact more frequently with your brand.
Are you ready to step into the Retail Disruption journey? Speak to our experts today!
Subscribe to Our Blog
We're committed to your privacy. SayOne uses the information you provide to us to contact you about our relevant content, products, and services. check out our privacy policy.