Web Application
5 min read
The App Store Optimization Checklist for Your Business Apps
Development process for the layperson and what does it take to build an application
Download Ebook
---

Subscribe to Our Blog
We're committed to your privacy. SayOne uses the information you provide to us to contact you about our relevant content, products, and services. check out our privacy policy.
For any business, an intuitive and user-engaging mobile app is their trump card. These applications broaden market reach and work their magic on every user.
SayOne has been in the application development league for 7 years as of today. We have developed over 300 SEO-friendly applications for both the web and mobile including Google Play Store and App Store.
But every time a customer approaches us with a mobile app need, their first question is 'how can our business app stand apart from the rest of the 2 million app crowd present in App Store or Play Store?'.
And our answer is 'App Store Optimization or ASO'.
App Store Optimization (ASO) for Business Apps
A few months ago, Google conducted a survey to understand the mobile users' journey starting from discovering new apps till using or abandoning it. And these were the results: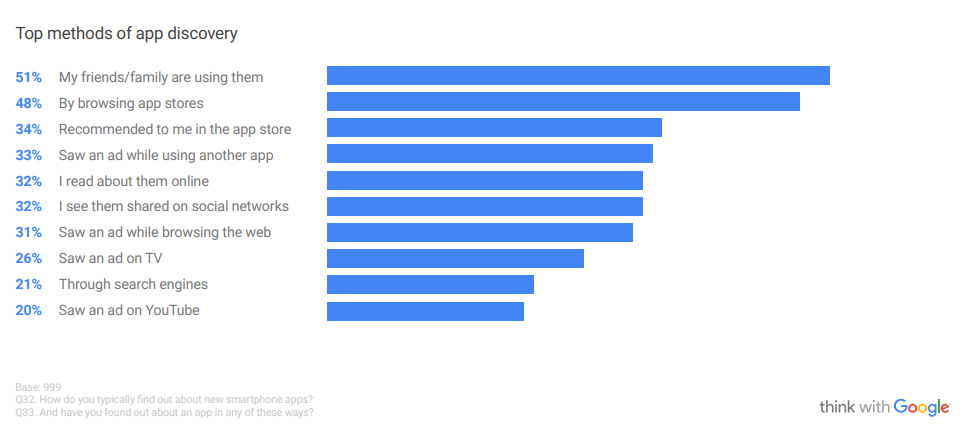 Source: Google - How users discover, use and stay engaged with apps
As you can see from the above graph, one of the top methods was browsing the app stores. 48 percent of the participants said that they manually searched for applications based on their need. To re-emphasize, Forrester reports suggest that 63 percent of apps are discovered through app store searches.
Apart from Google and Bing, there is a whole new set of section where your apps need visibility. If you think that creating an app with versatile features and surpassing the submission guidelines are the only the hurdles, then you are wrong. Your application is not going to reach the right set of audience unless you optimize it for search results.
The more you optimize the app, the sooner it appears. App Store Optimization is the marketing technique for increasing visibility of applications in the respective app stores.
App Store Optimization has evolved into a step as critical as finding the right mobile development partner or technology platform for business apps. Having a great app out there is not going to work, unless it is optimized for visibility.
Your Benefits with App Store Optimization Techniques
With millions of apps pushed into app stores every year, App Store Optimization is your cue to outshine from the lot.
ASO offers a lot of benefits to business like yours such as:
High ranking in app stores.
Increased brand awareness and visibility.
More visits to the app page and number of downloads.
Possibility of more positive reviews and ratings.
Improved user engagement and retention rates.
Low user acquisition costs.
The App Store Optimization Checklist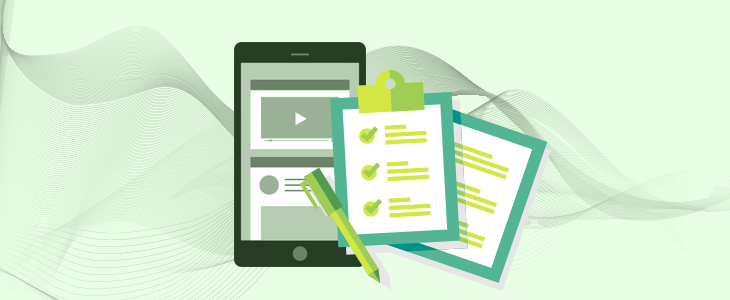 I am not going to dive into complex SEO details here. Let's keep it basic so that you can use this as a checklist before publishing your apps. Furthermore, you can keep pace with your mobile development partner and tick off things from your plate as each of these step gets completed.
Keywords
Identify the keywords that you need your application to appear in the search results. Getting the keywords right is the first step to optimize your apps for the right set of audience. As you select the keywords, ensure that it is in alignment with your application purpose and are relevant to your users.
App Name
Choose an app name that conveys the objective of your application. However, we are not talking about names such as 'Musical App' or 'How to Organize Your Week'. Rather, the app name should be concise, meaningful, and simple.
Read our blog: Should you migrate from monolith to microservices architecture
Subtitle
This is the catchy phrase under your application name. In short, a single line with 30 characters conveys your app's core values. Try to include your keywords in this subtitle without making it too long.
Description
Although the description section has less impact on SEO and ranking, it's important to give a brief introduction about your app in a meaningful manner. Similar to the meta descriptions seen for websites, the description in the app page gives users an idea about the app with its features and functionalities.
The truncated snippet is the best section to place your pitch about the app and compel users to download your application. So, place your main pitch there stating why they should download your app.
Category and Appearance
Placing your app in the right category makes a major difference. It helps potential users while searching and filtering apps. Select a primary category that best suits your app objective and genre.
The way you present your app in app stores also makes a huge impact on its visibility and downloads. Add the best possible app preview video and screenshots to show your potential customers what they are in for.
Reviews and Ratings
If you are choosing competitive keywords, then the number of downloads and ratings are definitely going to have an impact on your ranking. As more number of your competitors are fighting to show up for the chosen keyword, the search algorithm picks up the one with more ratings and downloads on the first page.
Read our blog: Microservice Applications: A New Approach to Building Software
Although this part is not entirely in your hands, you can look for ways to promote your app on other platforms to increase its reach. If your app has the rock solid features, then it will undoubtedly acquire your customers' mobile memory space!
Conclusion
Your optimization strategy does not end with the above points. These are only the basics to get started. The race is more competitive than you think it is.
Update your apps regularly and promote in-app purchases for more opportunities. Find a mobile app development partner who has the know-hows to think about ASO right from the beginning of app development. Then, you won't have to break your neck by indulging in the intricacies. At SayOne, we have been assisting customers with App Store Optimization from a long time. We take pride in saying that many of our apps have been leading in the app stores from the time they have been there.
If you still haven't optimized your mobile apps, then you are missing out a major portion of potential customers!
Looking for web or mobile app development services? Get in touch for a free consultation! from our Experts.
Subscribe to Our Blog
We're committed to your privacy. SayOne uses the information you provide to us to contact you about our relevant content, products, and services. check out our privacy policy.