Web Application
8 min read
Healthcare Mobile App Development Trends: Why, How, and How Much
Maximizing Mobile App Security with Blockchain Technology
Download Ebook
---

Subscribe to Our Blog
We're committed to your privacy. SayOne uses the information you provide to us to contact you about our relevant content, products, and services. check out our privacy policy.
Everyday living has become more complicated these days. This applies to healthcare too. Effective management of your health condition, medications, doctor's appointments, etc., is becoming more laborious to manage. Healthcare mobile app development seems to be picking up as using these apps helps to streamline and manage these processes better.
Healthcare Management – What It Is
E-health is a broad term that means the use of mobile phones and other electronic devices to keep both patients and healthcare professionals informed about:
Medicines given to a patient,
Patients' appointment schedules and pathology reports, and
Availability of medicine and medicinal services
For the patient, this means details such as appointments or medical tests to be performed can be obtained with just a few clicks. This is of immense advantage both to patients as well as to the entire medical industry.
Healthcare App Scenario Today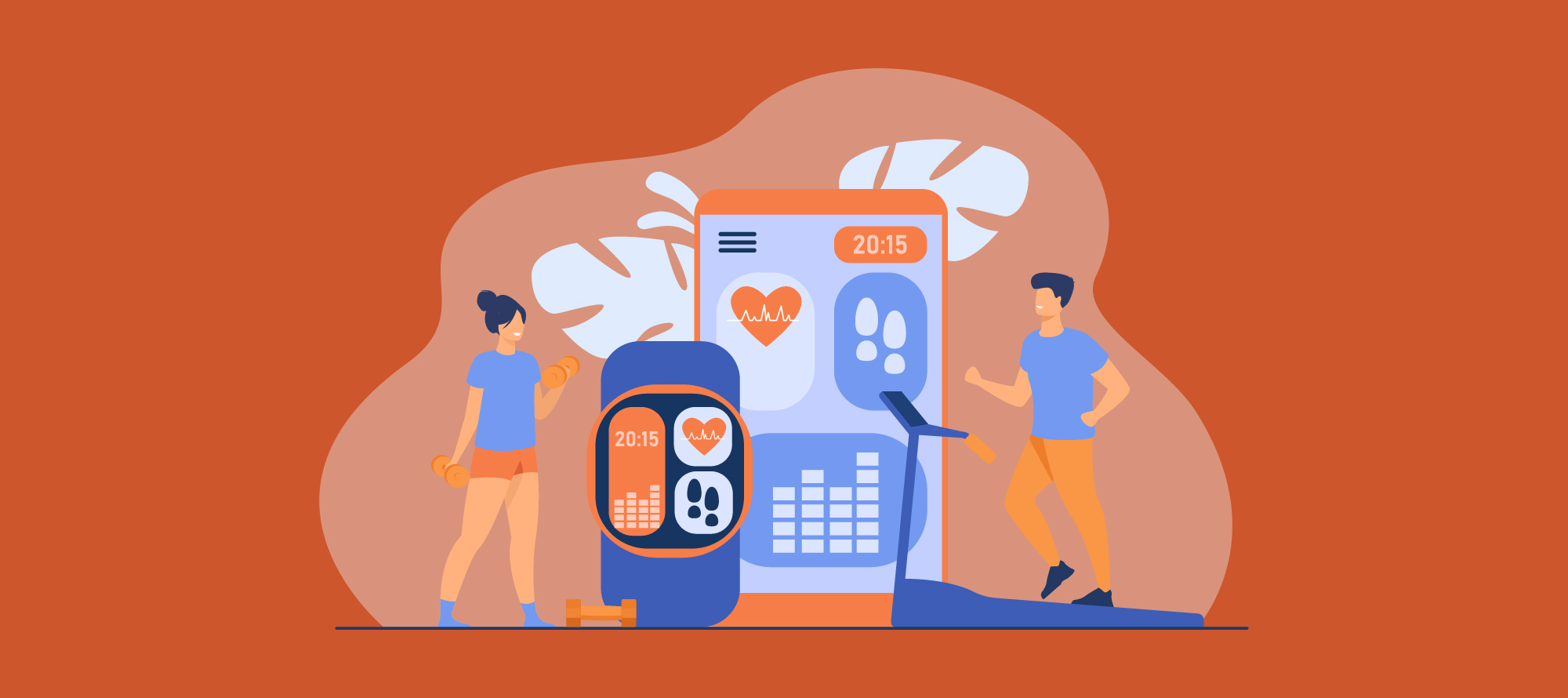 Though in its fledgling stage, the healthcare app development industry is facing a huge demand. If you are thinking of developing a healthcare app, you must understand that a lot of thought has to go into it to add the requisite features. Healthcare apps are likely to be used more often in emergency situations and, therefore, they should be designed in a manner to meet sudden surges.
You can decide the features of a healthcare app only if you are specific about the goal of the app and have correctly identified the app's target audience. As an example, if patients are the target audience of the app, then details such as availability of medicines and a purchase module should be added to the app. In another case, if the app pertains to healthcare, then the target audience here is different. It is the doctors and healthcare staff. A module facilitating booking of appointments, patients' medical histories, treatment records and bill payment modules will likely be featured.
Do you want to enter the market with innovative and intuitive apps? Contact us today for apps in any genre!
If you are interested in developing a healthcare app, then you have to be aware of the target audience more than just adding regular features to the app. Another point of importance is the final cost of downloading such an app. Paying a subscription for an app when the user wants to download the app in an emergency situation can be inconvenient. This will cause potential users to stay away from your app. Moreover, it is also vital to ensure easy navigation within the app for user retention.
Are Healthcare Apps Necessary
Health care mobile apps are being developed with a view to improving coordination and managerial efficiency. Eventually, this also helps to smooth a patient's treatment journey. A healthcare app helps the patient obtain the best information pertaining to his/her health and also reaches out for appropriate treatment in the shortest time period.
The advantages that healthcare mobile apps bring to doctors and the industry are as follows:
Schedule appointments according to doctors' specializations and availability
Enable distance monitoring of patients
Track the treatment process
Access and manage patients' clinical reports
Manage billing and payment records
Manage stock and availability of medicines
Manage purchase and supply of medicines
Patients also derive a number of benefits by using healthcare apps such as the ones below:
Search for and spot specialized doctors quickly and easily and schedule appointments
Search for and spot stocks of medicine that are reasonably priced and purchase them quickly and easily
Monitor the BP or sugar level and record the values regularly so that tracking one's health becomes easier
Avail the services of on-call doctors and ambulances so that patients get treatment on time
Read our blog, "How prescriptive analytics benefiting healthcare industry"
Steps Involved in Building a Healthcare Mobile App Development

Step # 1: If you want to market a healthcare mobile app, you ought to have a clear idea about the requirements. You have to know whether you need the app for monitoring purposes or whether you require the app to upload values, or review reports, or fix appointments, or perform any other function. Once you are clear about what you require, you can partner with a suitable healthcare mobile app development company.
Step # 2: This step involves identifying specific functions that will help users, such as a payment and/or purchase portal that has to be included.
Step # 3: This step involves protection of the privacy of the users' data. HIPAA certification is absolutely required for developing a healthcare mobile app. It is also crucial that developers integrate the app with data sources such as Google Fit and Samsung Fit to ease the health-tracking process.
Download our eBook to learn what it takes to build an app!
Step # 4: The next important step is to zero in on the app platform. Users access apps on a wide range of devices today: PCs, laptops, mobiles, tablets, etc. Therefore, the app has to be built in a manner that it functions across different platforms and a range of devices. Moreover, the app has to be a responsive one.
Step # 5: When hiring developers for healthcare mobile app development, ensure that they will first build a prototype and then add pre-existing solutions to the app. The app should be easily scalable and you should make it so that you can integrate it easily with other services. Creating an MVP, running trials, conducting tests, and upgrading with every new version is the best way to go.

What Are the Associated Risks of Failure in Healthcare Mobile App Development
Poor usability and a complicated navigation process can make the app clumsy
Too many gateway pages can leave users confused
A lengthy data input process and a long form-filling process can make users impatient
Without a filter option, searching for your site can be a long and difficult process
The absence of a chatbot/message box can make it difficult for those who are not tech-savvy
The absence of "go-to"/"click here" buttons can make it difficult for a user to go through several pages before reaching the desired options.
Cost of Healthcare Mobile App Development
The cost of development varies by the type of app that you may want to develop. The cost is likely to increase with the number of extra features, the integration of the app with other devices, and compliance certifications required so that you are in a position to market the app. On average, a healthcare app may cost you anywhere between USD 30000 and USD 80000, depending on how feature-rich the app is. However, as an entrepreneur, you also have to be prepared for the extra costs required for marketing, maintenance and for future releases of app upgrades.
Healthcare Mobile App Trends
The total global mobile medical app market was valued at around 2.4 billion U.S. dollars in 2017. It is predicted that by 2025, this will grow to over 11 billion dollars. This is an interesting statistic, especially for those wanting to enter into the healthcare mobile apps market. In this context, it is a good idea to get to know the latest healthcare mobile app development trends.
Patient-Generated Health Data (PGHD)
PGHD relates to data that characterizes the health of the patient using the mobile app. The app fills up data as and when it is recorded by the user. PGHD typically includes data such as disease symptoms, treatment history, healing process and milestones, biometric data, habits, lifestyle of the patient etc. Careful analysis of this stored data can reduce the number of visits to the clinic if the patient chooses to regularly and carefully analyze this data.
Wearable Devices
Smart wearable devices can be your constant companions that can keep you informed about your current health status. One example is the FitBit range of wearables (smart-watches, wireless-enabled wearable devices) that are designed to measure personal metrics such as heart rate, quality of sleep, steps covered, etc. with the help of sensors. Wearable devices are used the most by North Americans, followed closely by populations in the Asia Pacific.
Read our blog : How to ensure security standards in Mobile App Development
Telemedicine and Telehealth Apps
Telemedicine is among the fastest growing segments of healthcare IT. This involves the exchange of medical information over a distance using technology. This method is cost-effective, convenient and offers access to reliable medical doctors. Video calls with certified doctors can be initiated by the patients or appointments can be given to the patients by the doctors. The doctors issue digital prescriptions. In these pandemic times, a majority of patients prefer to have a video call than visit clinics.
Communication Channels
With better communication, the treatment also takes a better course. Instant messages, emergency/SOS calls, real-time video calling, etc., are some of the communication channels that patients and doctors use to communicate in telemedicine. Leveraging these channels in a communication app is advantageous for the makers of the app. Improved communication channels are the next trend in the healthcare industry.
Read our blog : Top 10 Mobile App Development Trends of 2023
Geolocation
Another important factor that you can see in healthcare apps today is geolocation. They are used in ways such as:
Geolocation shows the address of nearby hospitals/pharmacies/clinics to patients
Any person who gets injured can help him/her make an emergency call to a doctor/hospital
Provide relevant medical news and information about emergencies (such as hotspot areas during the COVID-19 pandemic)
Contact Tracing
Contact tracing in healthcare mobile apps is another option that is popular these days. The contact tracing technology, when combined effectively with a mobile app, silently tracks individuals and notifies the users in case any of their contacts test positive for the COVID – 19 pandemic.
Read our blog : How Multiexperience App Development Improves Your Business
Geolocation and Bluetooth technologies together alert users of the mobile app if there are COVID-19 positive patients nearby.
Data Protection
One of the biggest challenges that healthcare mobile app development faces is protection of the privacy of users' data so that there is no unauthorized access. It is common for patients and healthcare workers to share medical records and other health-related information about individuals. It is important that a lot of care is devoted to keeping this data private. Mobile data security should, therefore, be given the highest priority.
Mobile apps should be HIPA compliant for this. It is also predicted that many new technologies concerning mobile data privacy are in the making and are bound to appear soon.
Payment Gateways
Making payments during a medical emergency should be an easy thing to do. The mobile healthcare app should facilitate easy payment via payment gateways during such times. Instamed and Cedar Pay are mobile payment solutions that are being used in conjunction with healthcare apps for the purpose of making hassle-free payments.
Read our blog : The Role of Blockchain in Mobile App Development
Other mobile payment methods include mobile wallets, payment portals, and near-field communication. These can also be integrated into healthcare mobile apps.
The Internet of Things
IoT is a widely used technology to pass on health-related information from different devices to the healthcare service provider via an app. In most of these cases, the devices are usually fitness trackers that are combined with wearables. This helps physicians to monitor the vital signs of the wearer. In many cases, it alerts the healthcare service provider in case of a medical emergency or something happens to the patient suddenly. Recently, there have been studies on the Apple Watch being used to study patients suffering from depression.
Cloud-based Solutions
Patients' records can be easily accessed if the electronic medical record and electronic health record of a patient are integrated with cloud-based services. Also, other details, such as their medical insurance details, billing details, etc., can also be easily accessed. It also helps healthcare service providers to deliver data at lower costs.
Conclusion
In today's times, amid the pandemic, the importance of healthcare mobile apps has grown multifold. This consequently underlines the size of the healthcare mobile app development market.
Are you looking to hire expert developer teams to give shape to your cool app ideas? Call us today!
Subscribe to Our Blog
We're committed to your privacy. SayOne uses the information you provide to us to contact you about our relevant content, products, and services. check out our privacy policy.