Python Development
4 min read
How to Identify the Best Python Development Company?
---

Subscribe to Our Blog
We're committed to your privacy. SayOne uses the information you provide to us to contact you about our relevant content, products, and services. check out our privacy policy.
Python, the universally accepted programming language, has a 27% year-over-year growth rate. The programming language is rapidly gaining momentum. In this aspect, we see more heads turn towards Python to execute their game-changing application development projects. But how can you identify the best Python development company? Here is a quick checklist to support you in the vendor evaluation process.
Checklist to choose the Best Python Development Company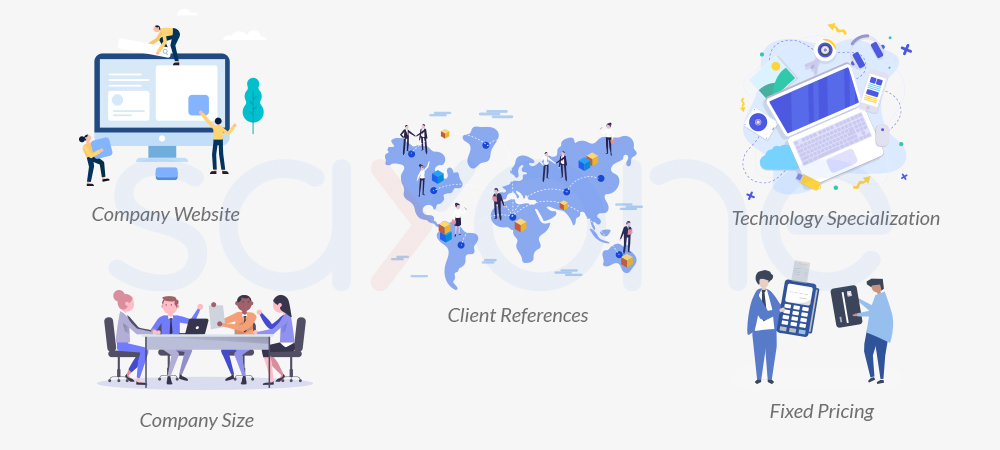 Company Website
A good rule of thumb is to check the shortlisted company's own website. A user-friendly website forms an essential pillar of the primary selling point. Hence, a company which cannot please its users' with an intuitive online portal is far from achieving the goal of the best software development company.
This doesn't indicate that a company website with unique animations and designs should be considered. Any company with a reliable website showcasing their services and products in a pleasing manner can top your list for further evaluation.
Company Size
First, analyze your situation. How big is your project? Does it require a 6 member team? Would a single, dedicated developer be sufficient for your project? Find answers to these questions and then start shortlisting companies based on their size.
If you just need a dedicated Python developer, then you don't need to approach an enterprise or organization of that level for your purpose. They might not be able to offer you unwavering attention. A medium company would do your job well.
If your requirement is complex and large, then look for vendors who have the in-house talents. Ask them the ratio of full-time/part-time/freelance developers. In an ideal scenario, your Python team should include only full-time employees, seated in the same room, who can communicate and coordinate with each other.
Technology Specialization
A jack of all trades is a master of none. Find a company that specializes in Python app development services. Because your need is nothing else but Python services. If the company has solid experience in other areas and only beginner expertise in your chosen niche, then you should look for other options.
Once you've analyzed their core competencies, then it's time to review their industry experience. Check if the vendor has enough experience developing Python projects for your industry. Speak with them and understand which technology stack they use with Python.
You do not have to dive into the nitty-gritty details. Instead, see if they use robust frameworks such as Django for Python development. During this process, it is also important to analyze if the company's experience working on project sizes similar to yours.
Check References
Client references are the mandatory parameters in choosing the best Python development company. To begin with, IT analyst firms such as Clutch and GoodFirms come quite handy for company reviews.
As a step ahead, you can also speak with their past and existing clients to understand more about them. This step also helps to understand their commitment towards each client and their project.
Read our blog: Top 10 Python Frameworks for Web Development in 2023
You can ask the vendor to provide with a list of their client details whom you can approach for the same. A good software development company wouldn't hesitate to provide you with references. While speaking with their clients, try to understand more about the project development approach, project completion time span, level of transparency, maintenance, and support.
Fixed Pricing
A fixed pricing model is the best option. It helps to eliminate any doubts regarding cost uncertainty. With the help of an effective cost estimation process, both the teams can be on the same page regarding the cost-overheads involved in the project.
Otherwise, you can be charged with additional expenses as the project progresses. When such demands are made the vendor's side, you wouldn't have any other option than accepting those additional charges.
Conclusion
Finding and selecting the best Python development is not an unachievable task. If you proceed with keen attention to detail, you are bound to find the best technology partner suited for your project. At SayOne, our Python app development services are built on the foundation of experience and expertise. We have chosen Python for a majority of our client and internal project for its robustness and flexibility.
To conclude, let's say that choosing the best Python development company is more similar to recruiting new talents. You need to clearly identify your project goals and requirements for a positive result.
Looking for web or mobile app development services? Get in touch for a free consultation! from our Experts.
Subscribe to Our Blog
We're committed to your privacy. SayOne uses the information you provide to us to contact you about our relevant content, products, and services. check out our privacy policy.