eCommerce Application
5 min read
Top 7 Steps to Start your Online Business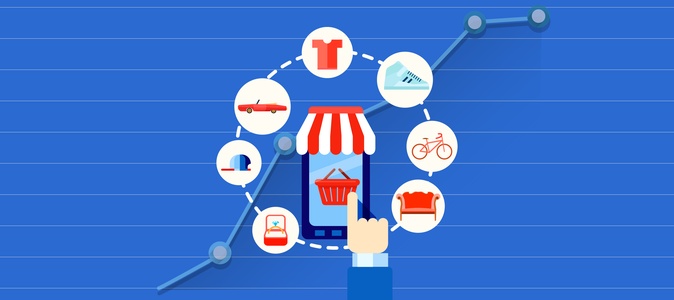 ---

Subscribe to Our Blog
We're committed to your privacy. SayOne uses the information you provide to us to contact you about our relevant content, products, and services. check out our privacy policy.
The eCommerce industry is booming post-COVID-19, and the future of brick-and-mortar shops is grim. And quite possibly these two models will continue their current trend respectively. Gone are the days when online shopping used to be a choice of preference and convenience, but now it has become a necessity and a choice for personal safety.
If you are planning to start your online business, this would be the best time to invest. Be clear about your vision if it's to milk the current trend or a long term plan of business that grows and lasts, the choice is yours. Consider these steps while deciding the business model, eCommerce platform, marketing strategies on how you can create a business and brand that creates a niche for itself, and a loyal customer base.
How to start an eCommerce business?
It is a visible trend that eCommerce is booming, and every passing day more and more sellers are joining the already crowded online retail space. Starting and running your eCommerce business is more than hoarding up an inventory of products and posting them in the form of a product layout online. Follow these steps carefully to set up a promising online business:
Read our blog" Mobile Applications For Transport Industry"
Step-1 Research and choose the right eCommerce Business Model
Starting your online business is an investment and be informed about every aspect of it. Don't go by hunch and assumptions, being clear in the first step will help you avert many difficulties that you may face while running your business. There isn't a single model that works for everyone, before deciding on what you want to sell online, learn about the various business models, and understand how they work.
Download our eBook for FREE: "Global Software Development Rates – an Overview".
Following are the three most business models:
Dropshipping Model: If you don't wish to invest heavily in stocks and inventory then dropshipping is a good model to start with. The seller transfers the customer's orders and shipment details to the manufacturer or another seller/wholesaler and ships the product directly to the customer and a share of profit from the sale.

Warehousing Model: If the idea of having a warehouse stacked with stocks and shipping out products by yourself as per orders, then the warehousing model should work for you. This involves heavy investment upfront. If you have a unique or favorite product idea, invest in manufacturing and labeling.

Subscription Model: This involves a carefully curated set of products that are sent to the customers regularly.
Additional Information: How to Choose the Right Business Model for Your Start-up
Step-2 Figure out your Niche
The chances of turning your eCommerce profitable with a niche product are higher than trying to sell a dozen of varied products, especially when you are starting. Invest time and effort in choosing the niche, find out the companies that have made it big in a particular niche. If there is competition then it's a good sign, it's an indication that there's a market for your niche. Avoid anything that is dominated by a major brand, be as specific as possible.
Additional Information: How To Find Your Ecommerce Business Niche
Step-3 Find out the product you want to sell
Before you think about product ideas ask yourself, Who are you? Who are your customers? What is the brand image that you are trying to project? Once you have the answer to these questions start thinking about product ideas. A product idea with less investment would be a wise decision. To test the viability of the product you can use affiliate marketing. Carefully assess all the aspects related to the product, in terms of quality, and be ready with all the information you will need to clear customer service queries and requests that may come up when the product goes into sales. Being prepared at this stage will help you provide optimal service without any hiccups and delays.
Additional Information : What to sell online?
Step-4 Register your Business and Brand Name
You will need a brand name for your business that compliments your branding and business ideology. Register your business and brand name to move to the next stage of starting your online business. Get through all the legal formalities, taxing, and licenses. Once you are through with all the necessary paperwork, hire a designer to design your logo and branding image design.
Read our blog "Android App Development Trends"
Another important part at this stage is to find the right vendors and this includes:
Your eCommerce software vendor

Product and material vendors for your product

Packaging Vendors

Shipping Vendors
Step-5 Lock your Business Plan
With all the background work done, its time to put your business plan on paper and determine the finances. This stage involves all the budgeting, marketing expenses, logistical costs, staffing, etc. and estimate your break-even point, both in unit sales and duration (in months).
Step-6 Create Your Online Store
With everything in place it's time to build your online store, you need to register your business domain name and URLs.
There are a lot of eCommerce platforms to choose from based on your business model. Choose a design template that reflects your branding image and persona.
eCommerce platforms like shop7 provide you customization to have the ergonomics you want for your online store. Also, a dashboard that's loaded with all the tools you will need to run your online business successfully.
Step-7 Market your Products and bring sales
The challenge of running an online store is to turn leads into sales. There are many proven marketing techniques that you can formulate to help your business grow:
Create SEO content to guide potential customers to your website via search engines.

Use Social Media to create awareness about your brand.

Request Word-of-Mouth recommendations and reviews of your products.

Use Artificial Intelligence and Machine Learning tools to create highly targeted campaigns to improve sales.
Additional Resources: How to market your online store
You can operate your business without struggle and risk, keep a constant watch on the ever-changing market situations, and understand what your customer wants. These 7 steps are guideposts for you to do the right thing at the right stage, hope this information will be of help to you.
Planning to start an online business. Get in touch for free consultations.
Subscribe to Our Blog
We're committed to your privacy. SayOne uses the information you provide to us to contact you about our relevant content, products, and services. check out our privacy policy.