Mobile Application
7 min read
Mobile Applications For Transport Industry
Maximizing Mobile App Security with Blockchain Technology
Download Ebook
---

Subscribe to Our Blog
We're committed to your privacy. SayOne uses the information you provide to us to contact you about our relevant content, products, and services. check out our privacy policy.
Applications For Transport Industry
Industrial companies manufacture tons of goods and products every day. What happens if those products cannot reach customers? The business will fail. This is the part where logistics plays its role. Logistic businesses manage the complex act of transportation of the product and materials to the customers. The industry is constantly moving and has different factors to manage with each other. By developing a custom-made mobile app transportation industry would be able to serve goods and services more productively and speedily. Inconsistency and fragmentation are the two major problems faced by the logistics industry. Since there are a number of parties involved (manufacturers, storekeepers, drivers, managers, and end-users) it's not that easy to have centralized control over every step of the way. Fragmentation can even lead to general inefficiency. Let's say cheers to all the techies out there because they have come up with a possible silver bullet, a software solution to synchronize information between the multiple parties.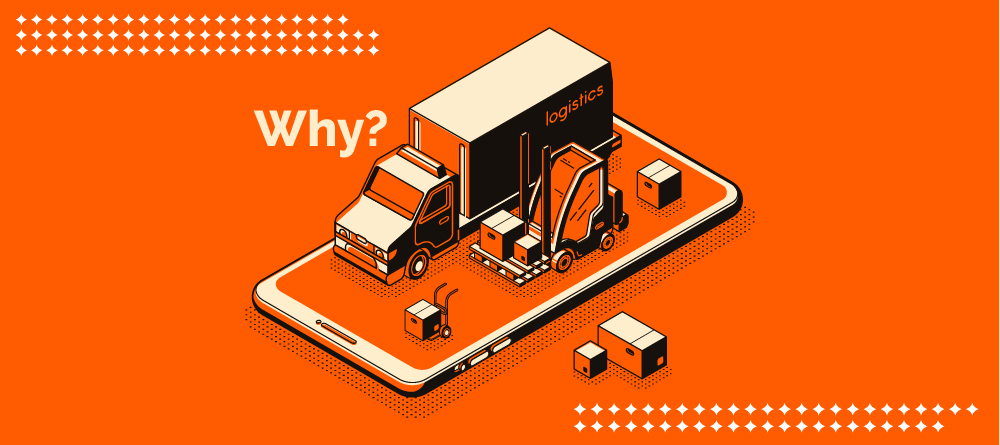 According to research conducted, the worldwide revenue of the mobile app development industry in 2019 is US$462 billion. This is because mobile applications simplify complex situations. With the availability of high-speed internet and attractive user interface, mobile phones produce a remarkable change in the way we experience computing. Today, managing the transport business seems turbulent with a custom made transport and logistic mobile app. It helps in the integration of different companies and coordinates their actions to deliver a product to the destination. You can have Real-time communication, feeds, and data synchronization between fleets and servers. Communication is key when working with your fleet of drivers. Know where and when they will be available and receive automated alerts. You will have a live tracking tool for your fleet and vehicles from the time of departure to arrival. GPS and map integration with geo-fencing solutions to live track drivers. Nowadays, transportation companies can run a successful and efficient organization with the help of a mobile application.
Read our blog : Top 10 Challenges Faced in Mobile Application Development
Now let's why transportation and logistics companies need to implement mobile apps in detail.
● Smoothing the Entire Complex Process.
Transportation and logistics companies often connect themselves with partners whose goods and consignments are carried from the point of production to the ultimate delivery points. The complete process must be performed in a way that makes sure smooth operations, timeliness of delivery, and speedy performance. Using a mobile application as a method of service management, companies in this industry can not only achieve significant gains but also manage their processes around much ease and convenience.
● Trouble-Free Warehouse Management
Transportation and logistics mobile app development initiates easy operations and an error-free system of managing goods in warehouses and yards. When you develop personalized mobile apps powered by the latest business-specific features, it is possible to avoid the imprecision and errors which may happen due to manual efforts. The mobile app can scan the IDs of goods and storage locations and equipment. Thus managers can find it easy to consider inventories and transactions entered via mobile app and sync the data to the original database.
Read our blog : Estimated Cost To Develop A Mobile Application in 2021
● Confirmation Process after Delivery
With the help of custom made mobile apps for transportation, the consignment is completed hassle-free. All you have to do is just to scan the goods' IDs and enter the details like the time of delivery, location, and item quantity, thus the delivery staff can update the data in the app with a few straight taps that send delivery alerts.
● Real-Time tracking of Cargo and Productivity
Customers can track their shipment so accurately. This is possible only because of the current generation of transportation and logistics mobile app development allows tracking features. Logistics business companies can always keep an eye on the movement of their field employees and can also deliver GPS-based information of shipment status to customers.
Download our ebook for free: Global Software Development Rates: An Overview
● Shipment Booking
Logistics Mobile app development allows the feature of booking shipment from home. Clients who need an effective and fast way of booking a shipment appointment and calling the company to pick the item from their destination can benefit from this.
● Most Efficient and Most Affordable
Transportation and logistic mobile app development is truly a life savior for the logistics industry. The application can record the real-time data of goods volume, their movement, and inventories, and can also keep manpower properly organized. Thus the app enhances operational cost and efficiency.
● Easy Decision Making
As it is possible to capture and update real-time data instantly, the decision-making process is made easy for the business.
The insight created by the mobile apps eventually enhance field employees in logistic companies to make quick, flawless judgment calls and helps to avoid possible delays
Read our blog: How to Choose the Right App Type for Your Business
● Easy Task Management
From the company's end, considering mobile app development for transportation can maximize their potential not only to assist customers but also control their own resources. A customized app can create a balanced flow of information that helps to keep an eye on the field employees' timesheet, update their tasks, and manage their next-day deliveries. App also shows the shortest routes to deliver the consignment faster and this may reduce transportation detour and cost.
● Digitized Automation Process
Managing business tasks through digital platforms will eliminate the need for papers and promote a paperless ecosystem and this can be considered as one of the major benefits transportation and logistics mobile app development offers. Freight and logistics apps have a rich dashboard with amazing features that eventually automate existing processes, digital reports and order delivery confirmation, and task scheduling, etc. Thus, digitalization helps to save time and ensures that all the data and updates are securely recorded in a centralized system of the app and shared with a closed-loop.
● Flexibility and Retention
One of the best advantages gained from digitizing logistics operations is its ability to alter the course of transportation routes and delivery schedules. For the owners and the clients, this is considered as control and much flexibility. As mobile app development generates increased control of supply chains and logistics providers they can enjoy great space for building lasting partnerships with their customers, and this may lead to better customer retention. A personalized mobile app with an all-beset approach thus helps you connect with customers on another level, and also keep them informed on real-time updates and custom recommendations.
Read our blog: The Impact of Mobile on Restaurant & Food Delivery Industry
● Auxiliary Operations
Apart from all these benefits, a customized mobile app delivers several more exciting features. Some of them are:
➢ Assurance
➢ Service standard improvement
➢ Ease of inspection
➢ Account verification
➢ GPS integration
➢ Route planning
➢ Customer care services
Now that you know all the advantages of Mobile Applications for the Logistics Industry, now I will help you with some factors that you must never miss while creating a mobile application.
● Offline Support
Transportation Industry is always moving, they will have to pass so many pathways where they may not be able to access the internet. Problems in transportation work processes like the finishing stage can impact the end-user and affect the business. So it is important to set up an offline support facility.
● Driver and Vehicle Tracking
Locating the whereabouts of the vehicles and drivers are the most serious issues faced in the logistics industry. Technologies like GPS, LBS, and Telematics made it possible to do the tracking via a mobile phone and keep a record of real-time updated data, history, and
communication. Google map and other map services help to track the route and link it to your system.
● Payroll Management
A mobile application can keep the record of the log-in and log-out inputs, job hours, and data entries. The employees can automatize the entire payroll and expenses using a mobile application and avoid unnecessary discrepancies or errors.
So there is no doubt that digital solutions have swept deeply through the transportation and logistics industry. Having developed a customized transportation and logistics mobile app is an interactive, fast, accurate, easy-to-use, and most efficient way to enable tracking, automation, and real-time management of the transportation process such as dispatch, inventory management, record storage, inspections, and many more. Transparency and on-time delivery are the two big issues that can create a good impression on our customers. On-demand mobile applications introduced for logistic business a crucial role in delivering goods on time and at a desirable price. The common issues in the transport industry like speed, efficiency, and affordability, all could easily be eradicated. The experts in the industry combine advancements of mobile technology along with core aspects of the transportation industry to provide next-generation logistics solutions for International Domestic Transportation, Freight Management, Shipping Management, loading, and unloading for global businesses, etc…
If you have any more queries regarding Mobile Application Development Services for Transportation Industry .
Our experts can guide are always available for you. Get in touch for a FREE consultation.
Subscribe to Our Blog
We're committed to your privacy. SayOne uses the information you provide to us to contact you about our relevant content, products, and services. check out our privacy policy.